If you are like many businesses, posting to Facebook, Instagram, Twitter, and maybe even LinkedIn if you sell B2B, is already part of your social media marketing strategy. But are you posting to your Google Business Profile? If not, read below to learn why you should consider it.
What is Google Business Profile and Why Should I Care?
Google Business Profile (formerly Google My Business) is a free tool that lets businesses manage their online presence for some Google products, including the Knowledge panel, which appears to the right when people search for your business, and Google Maps. GBP is a business listing lets you tell people more about your business. You can also post updates and offers about your business.
For example, let's suppose you own a bar and you have a burger and beer special on Tuesdays to get more people into your restaurant a slower day. You can advertise this offer through a post.
On average, businesses are found about 1000 times a month via their Google Business Profile listing. That means you'll be able to get your message about your Tuesday special in front of about 1700 people for free. To compare, the average reach of a Facebook post is just over 5%. You would need 660 followers on Facebook to reach the same number of people.
Google Business Profile posts also help you generate more leads or store visits. The average action conversion rate is about 5%, which means about 5% of people who see your Google Business Profile listing will interact with it. For example, they can call you, visit your website, or get driving directions. Optimizing your listing and posting more frequently helps you improve your reach and increase the number of interactions.
How to Post to Google Business Profile
Posting is easy. Just log into your Google Business Profile and:
Click Create Post
Select Your Post Type from the top row
Complete the fields
Click Publish
To see your posts, click Posts from the left menu.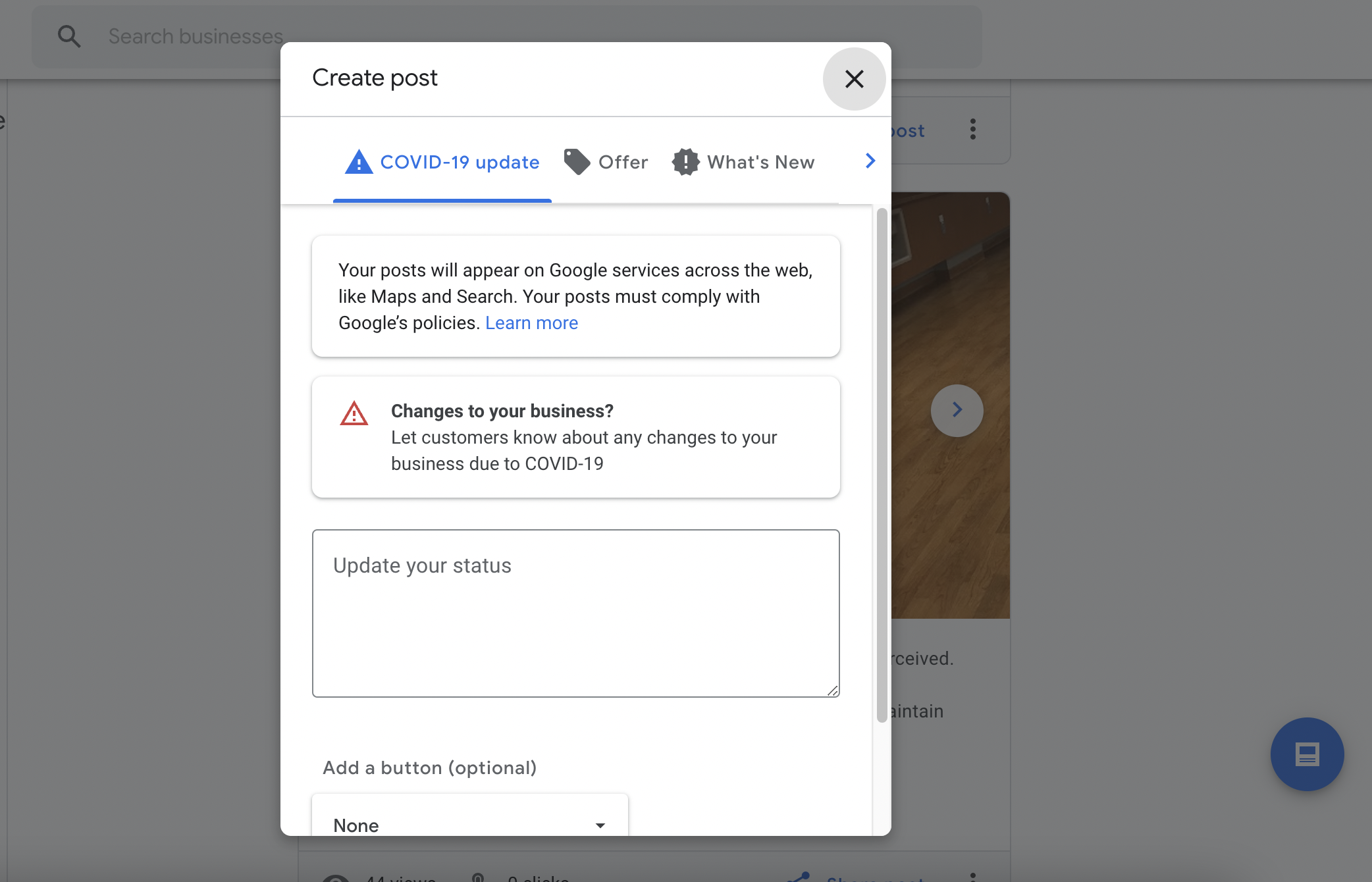 Scheduling Google Business Profile Posts
If you are used to using a social media posting tool like Buffer, for example, you know the benefits of using a scheduling tool. They make it faster and easier to post regularly and you are less likely to forget to post. Unfortunately, you can't schedule a post in the GMB dashboard and most social media posting tools don't support GMB. However, there are very inexpensive tools like Jess that you can try for free.
Measuring Your Results
It's easy to see if Google Business Profile is working for you. From the dashboard, click Insights and see how many people found your listings and interacted with them. You can also see insights about individual posts by clicking posts and looking at the data found under each post.

If you are a local business, it's highly likely posting to your Google Business Profile will help you, so why not start today? If you haven't claimed or optimized your GBP listing, you'll have to do that first. Find out how to claim a GBP listing.
Have any great GBP posting stories? Share them in the comments below.