You want to improve your organic search presence, but your limited marketing budget may be preventing you from hiring an SEO expert. While doing SEO in-house may feel intimidating, there are many things you can do yourself to enhance your website's organic rankability on search engines like Google and Bing.
All DIY SEO projects start with keyword research. And if you have a very limited budget, Google Ads is the right tool to get started. Follow these steps to find keywords for SEO using Google Ads as a free tool for keyword research.
Sign Up For Google Ads For Free
You will need a Gmail account in order to sign up for Google Ads. If you already have a Gmail, log into your account in your browser then proceed to the following steps.
Step 1: Head to https://ads.google.com/home/#!/ and click "Get Started"
Step 2: You will be taken to a page that asks, "What is your main advertising goal?" This is a guided setup feature provided by Google Ads. Since you will not actually be running a pay-per-click campaign, you can click "Switch to expert mode."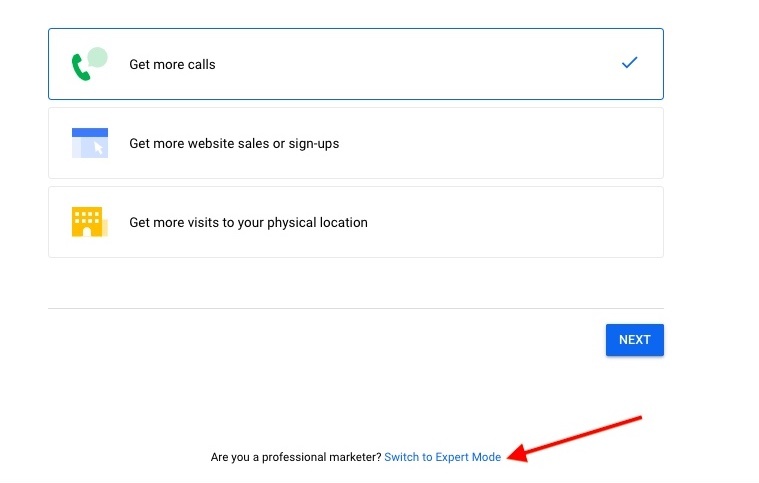 Step 3: The next page asks about which type of goal would make the campaign successful for you. Skip ahead by choosing "Create an account without a campaign."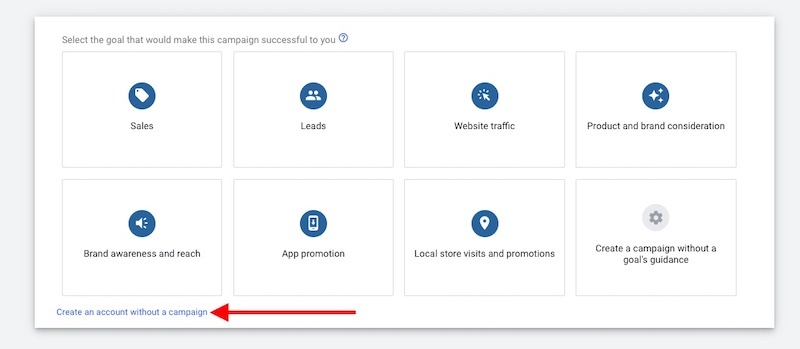 Step 4: Finally, you will need to confirm your country, time zone, and currency for billing purposes. You will not be required to put in any billing information.
Once you hit submit, you will have officially set up your Google Ads account. Now, you can start your DIY keyword research efforts.
Use The Keyword Planner To Find Keywords For SEO
Find Keywords Based on Your Website
In your Google Ads account, click Tools, Keyword Planner, and Discover new keywords. Here, you will find the option to either put in a product or service related to your business or enter your website domain. For now, put in your website URL and hit "Get results." Google Ads will then generate a list of keyword ideas based on your website content.

Additionally, Google Ads provides insights for each keyword based on historical data:
Average monthly searches: specifies how frequently the keyword is searched each month.
Competition: ranks the competitiveness of each keyword as low, medium, or high. While the competition metric is based on paid search data, it still offers valuable insight into how difficult it will be to rank your website for a particular keyword.
Automate Your SEO With Jess
Find Keyword Ideas Based On Your Product Or Service Offering
Alternatively, you can find keyword ideas based on a search of a single product or service. In the website search bar, you will see the option to switch to "Start With Keywords." Here, you can enter a word or phrase that represents an important aspect of your business. Subsequently, Google Ads will give you the average monthly searches and competition of that keyword as well as a list of related keyword ideas for you to explore.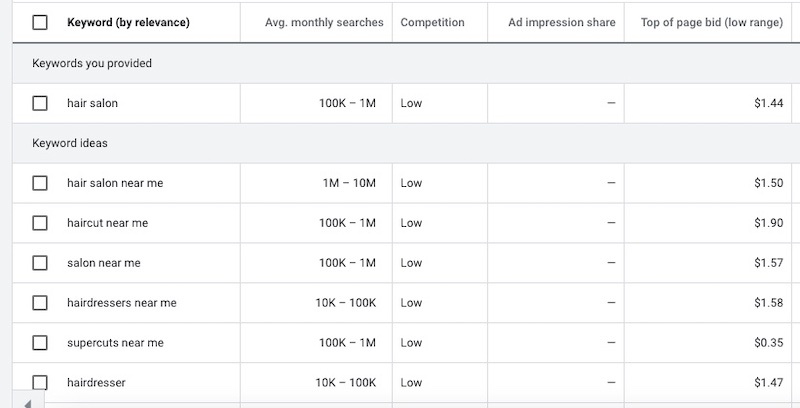 Filter Your Keyword Ideas
At the top of the page, you can edit the location and date range to understand how many people are searching for a keyword within a given geographic area and timeframe on a monthly basis. Specifying a geographic location is helpful for businesses that offer a local product or service, like an electrician or contractor. The average monthly searches metric will then filter monthly searches to reflect your specifications.
Additionally, there is a smart feature called "Refine Keywords" that allows you to remove keywords, like specific brand names, from your list. This tool is only available if you search by keyword and not by URL; however, you can manually exclude any words you want to stay away from in either search option by going to Add Filter then Keyword.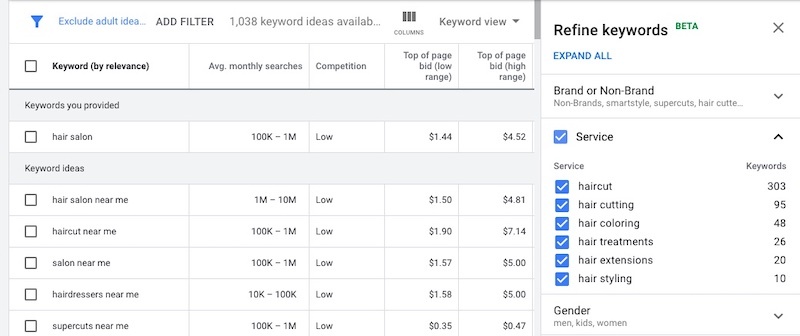 Review, Save, and Export Your Keywords Ideas
You can group your keywords categorically by relevance by clicking on "Keyword View" at the top of the table and switching to "Grouped View." This will allow you to browse the more related keyword ideas together. Finally, once you feel you have a strong list of keywords, you can export the list by going to the downward arrow in the top right corner.
You know your business better than anyone. As a result, you are in the best position to refine these ideas and pinpoint the words and phrases people are using to find businesses like your own. Google Ads helps you define your industry knowledge as searchable terms that you can use to optimize your website for SEO.
Understand if your DIY SEO and other marketing efforts are paying off with a marketing analytics platform like Jess. Jess will deliver an automated report right to your inbox so you can see exactly which marketing channel is bringing you the best results. Sign up for free today!
For more tips to help grow your marketing agency, subscribe to our newsletter!