For beginners, creating and editing website content may seem daunting. Fortunately, WordPress's user-friendly interface accommodates amateurs while simultaneously offering more technically advanced features for experts. Even if you work with a professional to manage your website, it is helpful to know the basics of editing text in WordPress so you'll be able to make time-sensitive website updates on your own. Below, learn how to navigate the WordPress dashboard to edit text on pages and in blog posts on your website.
Login to WordPress
Make sure you have the login credentials so you can access the back end. If you hired a web developer to set up your WordPress website, he or she will be able to generate specific login credentials for you. You'll need the link to the admin login page, a username or email address, and a password. Even if you don't intend to edit the site yourself, you'll want access to the site. If you don't and something happens to your web developer, you run the risk of being locked out of your site!
After you successfully log into the admin dashboard, direct your cursor to the menu on the left side of your screen. Here, you will see separate sections for Pages and Posts. After you click on either, you can browse titles or use the search bar to find the exact piece of content you intend to edit.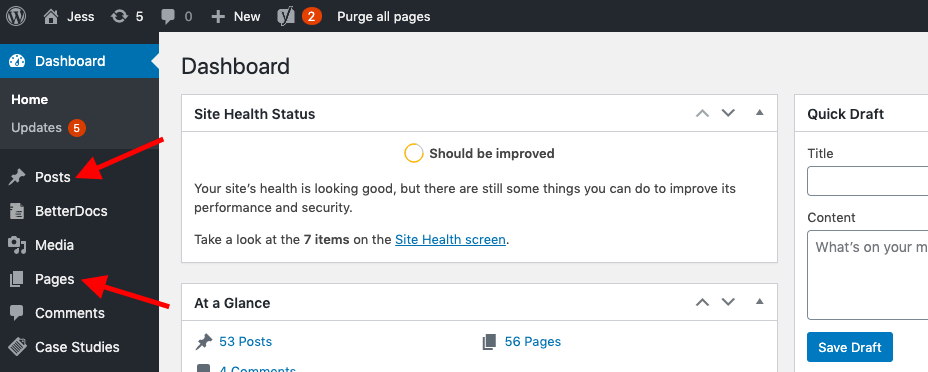 WordPress Classic
WordPress Classic is the standard setup for writing and modifying posts and pages on WordPress sites predating 2018. WordPress Classic offers two editing modes, the Visual Editor and the Text Editor. Once you open a page or blog post, the screen will resemble that of a Google Doc or Word Document. This default format is known as the Visual Editor. Use the row of icons at the top of the Visual Editor to:
Change the text format: paragraph, header 1, header 2, etc.
Change the text style: bold, underline, color, etc.
Change the text alignment
Insert bulleted or numbered lists
Add a hyperlink
Add a horizontal line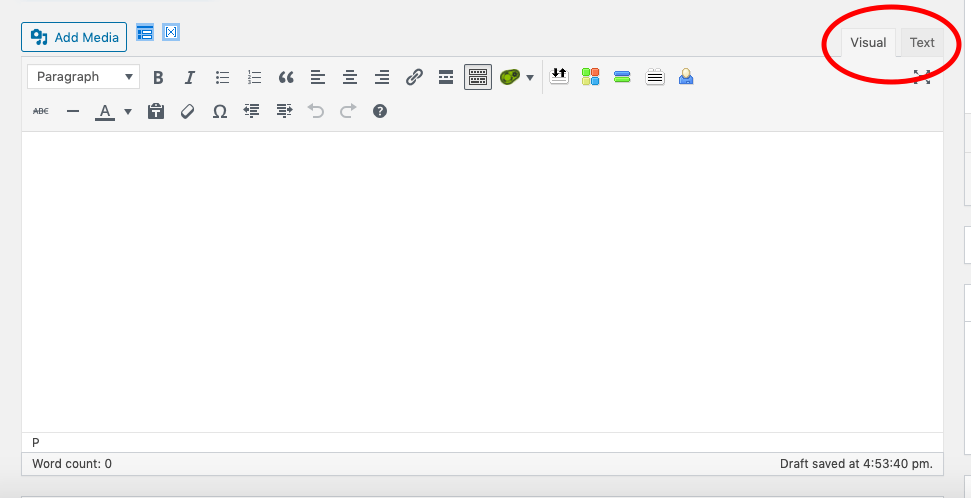 The second editing mode, Text Editor, enables you to write explicitly in HyperText Markup Language (HTML). The two tabs located above the editing area on the right side allow you to easily switch between setups.
WordPress Block Editor
The block editor, also referred to as the Gutenberg editor, is WordPress's latest editing system. This version formats different content elements into blocks so you can easily create and organize page and post layouts.
After opening the page or post you want to edit, the first block on your editing screen will be for your H1 heading. You have to manually add additional blocks using the Plus + icon at the top left of the screen, hitting the return button, or hovering over the bottom of an existing block until the Plus + icon appears. Types of blocks include paragraph, table, image, and more.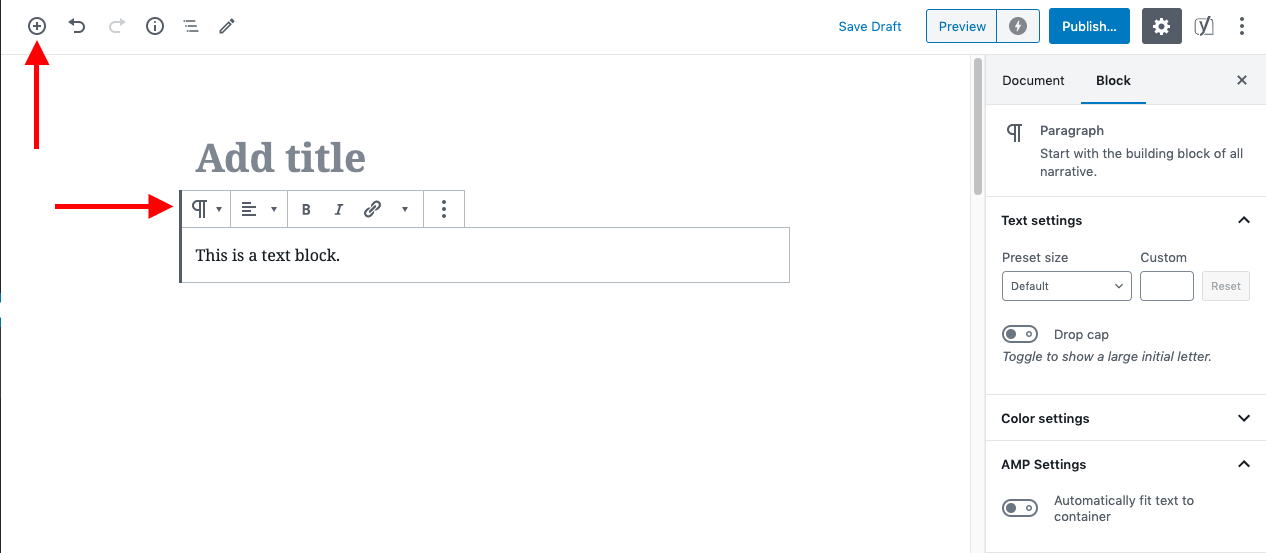 Divi, Elementor, and other Third Party Theme Editors
Many developers use website builder themes that make it faster and easier for them to develop your website. If this is the case for you, what you see when you are editing WordPress pages and posts may look different than the screenshots above but how they work is similar to the default block editor. Not sure how to start? Contact your web developer for a quick walk through.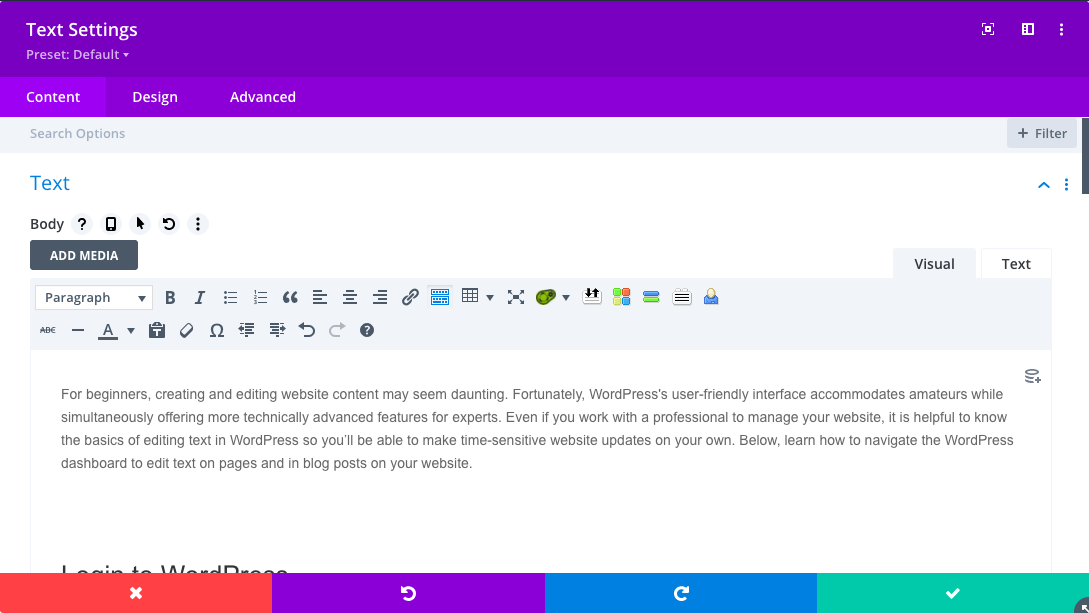 Preview and Save Changes
In WordPress Classic, you will find everything you need to preview, save to draft, and update your content changes under the "Publish" section on the right side of the editing screen. Preview allows you to see how a page or post will look once it is live on your website. For new and unpublished pages and posts, you can choose to save your content to a Draft. Finally, for live pages and posts, hit the Update button to immediately implement your changes. In WordPress Gutenberg, you will find these options under the status & visibility dropdown located in the Document tab on the left side of your editing screen.
WordPress offers all the necessary tools and features to help you maintain an attractive website that supports your brand reputation and business goals. While this is a superficial guide on how to edit text in WordPress, it is still a good foundation for anyone just getting started. For more marketing tips and tricks, subscribe to our newsletter!