As the name suggests, Google Realtime reports let you see what is happening on your website right now. In particular, you can see what locations and sources your visitors are coming from, what pages they are viewing, the content they are browsing, and the events and goals they are triggering.
Unlike other reports in Google that show you what is happening during a particular range of time, Google Realtime reports show you the actions your website users are taking within seconds.
Realtime data lets you see how your marketing efforts are affecting your website right now. For example, you can measure the impact of an individual social media post or see if a short-term promotion you are offering on for just one day is boosting sales.
Realtime data is also helpful when you are setting up conversion tracking by implementing Google Goals. First, you can see what Events are triggering when users complete actions you would like to track. For example, you might want to track when users complete a contact form. The click of the submit button triggers an Event. Further, you can refer to Realtime data when you are testing Google Goals you've set up. For example, suppose you set up a Goal to track the click of your contact form submit button. You can complete the form, click the submit button, and refer to the Realtime Goals report to confirm your goal is working correctly.
There are six reports under Realtime.
Overview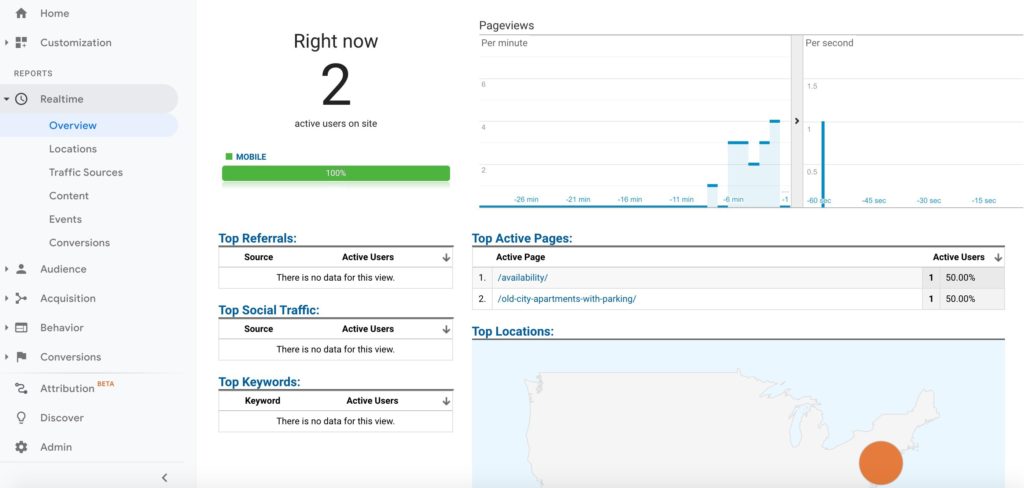 The Overview report gives you a quick snapshot of the top referring websites, pages your users are on, social traffic sources, location of your visitors, and keywords. The Pageviews graph in the upper right lets you see the number of pageviews that happened during the past minute on the right and the past 30 minutes on the left.
Locations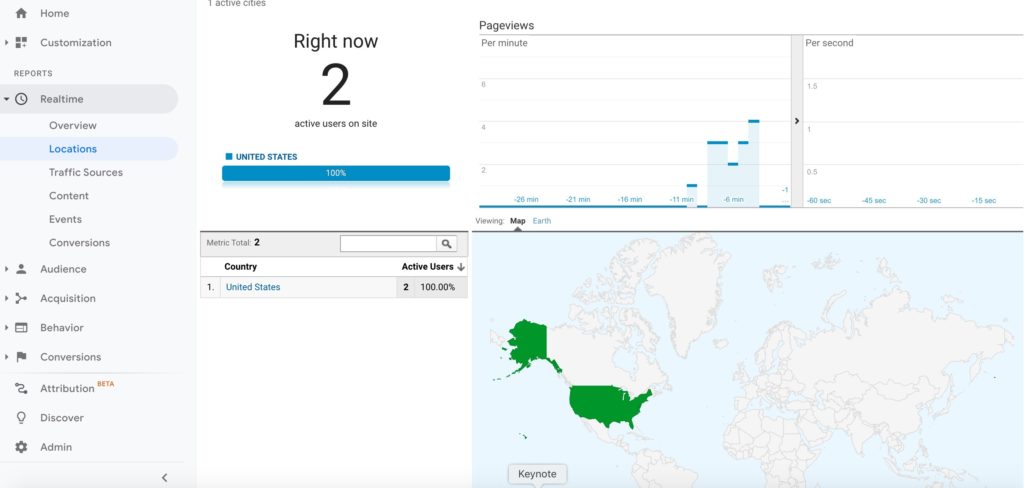 The Locations report shows you what country your visitors are coming from.
Traffic Sources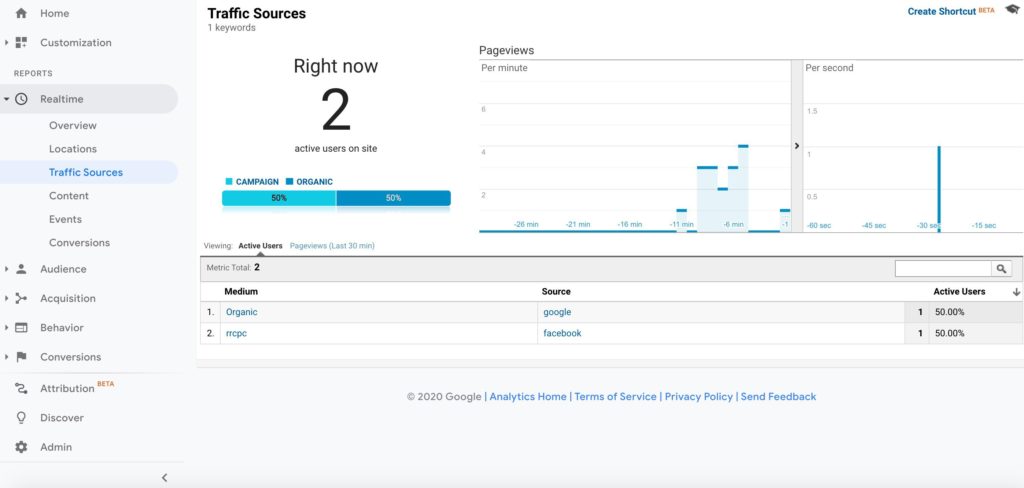 The Traffic Sources report shows you what sites your visitors are coming from, which is reported under Source. Medium helps you identify the type of traffic. Example of mediums are organic, which identifies "free" traffic from search engines, referral, which shows you visits generated from links on third-party sites.
Content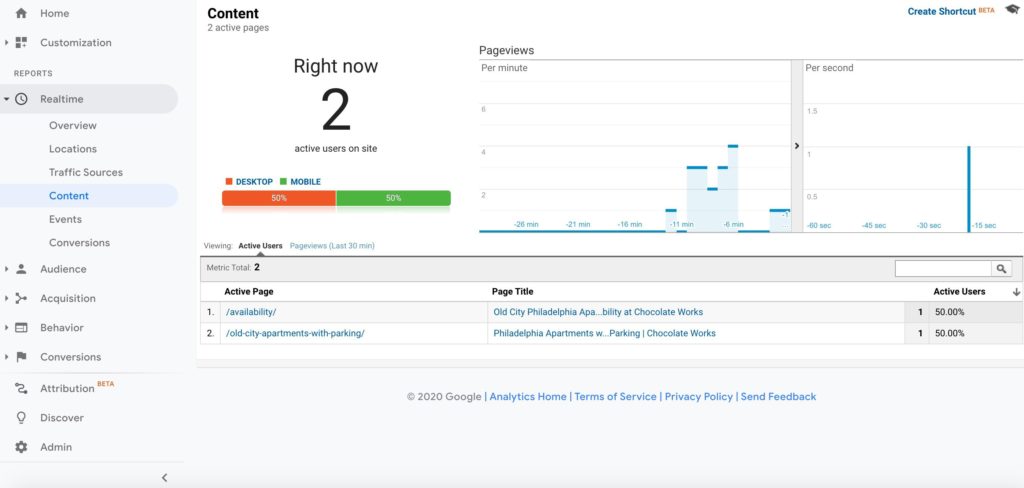 The Content report shows you what pages your visitors are on. You can see both the URL of the page, as well as the Title Tag, which appears under Page Title.
Events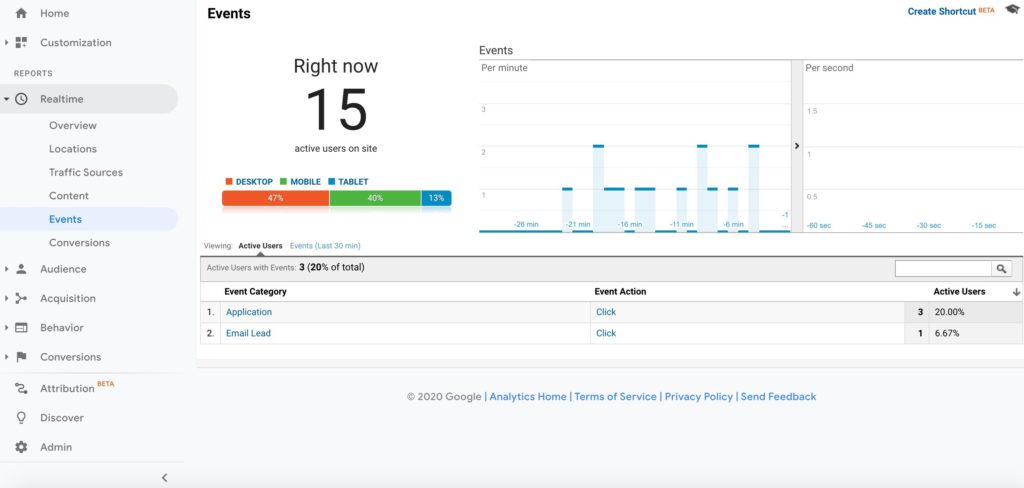 The Event report shows you what events your visitors are triggering. You can see the Event Category and the Event Action.
Conversions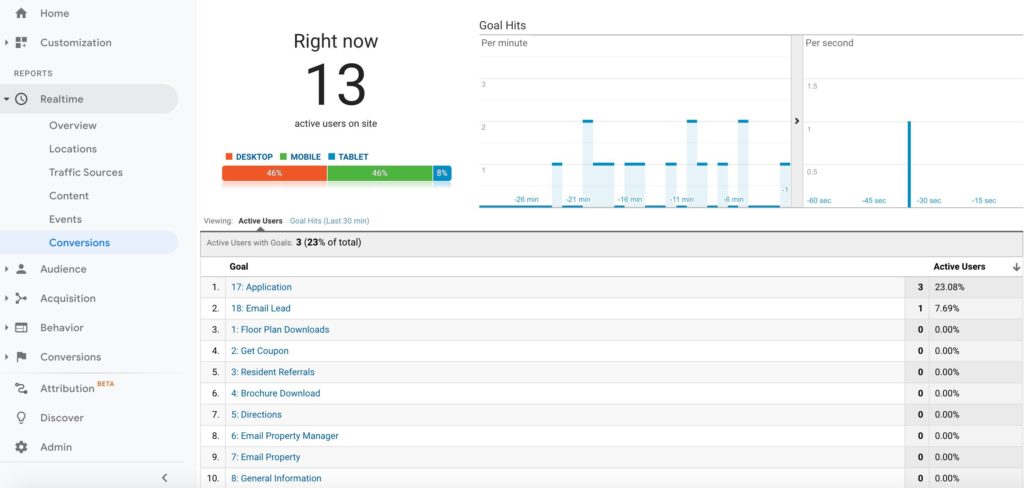 The Conversions report shows you what Goals your visitors are triggering. You can see data for each individual Goal.
Now that you know what Google Realtime reports are, how will you use them to inform your own marketing?
To receive tutorials like this delivered right to your inbox, please subscribe to our newsletter.