Email Notifications
You can set up Jess to send you an email every time you receive a new lead as well as several reports. Some reports use form or phone call tracking data and will only be available to users who have installed these features.
To receive email notifications, you need to enable them first. Select Notifications from the menu at the top right at the screen.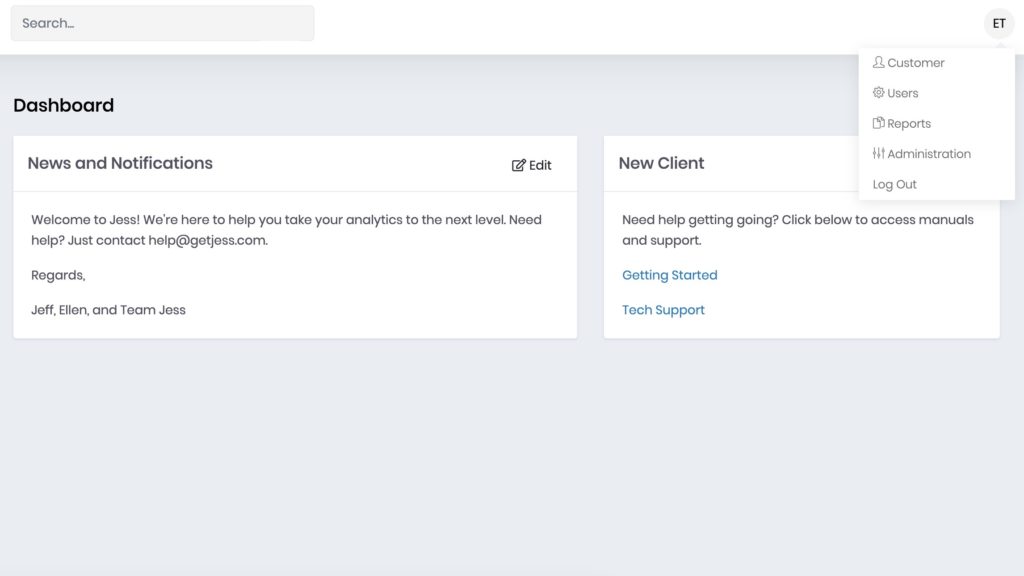 Check the box next to the email notifications you would like to send your users:
New Leads
All Leads
Qualified Leads
Insights
Insights (weekly)
Summary
New Leads
Select New Leads to receive a notification every time you get a new lead through Jess. Simply click Qualified or Not Qualified in the email to tell Jess know the status of the lead. If you aren't sure, you can follow up first and then qualify the email lead through the notification email or directly in Jess. You must have form or phone call tracking installed to receive this notification.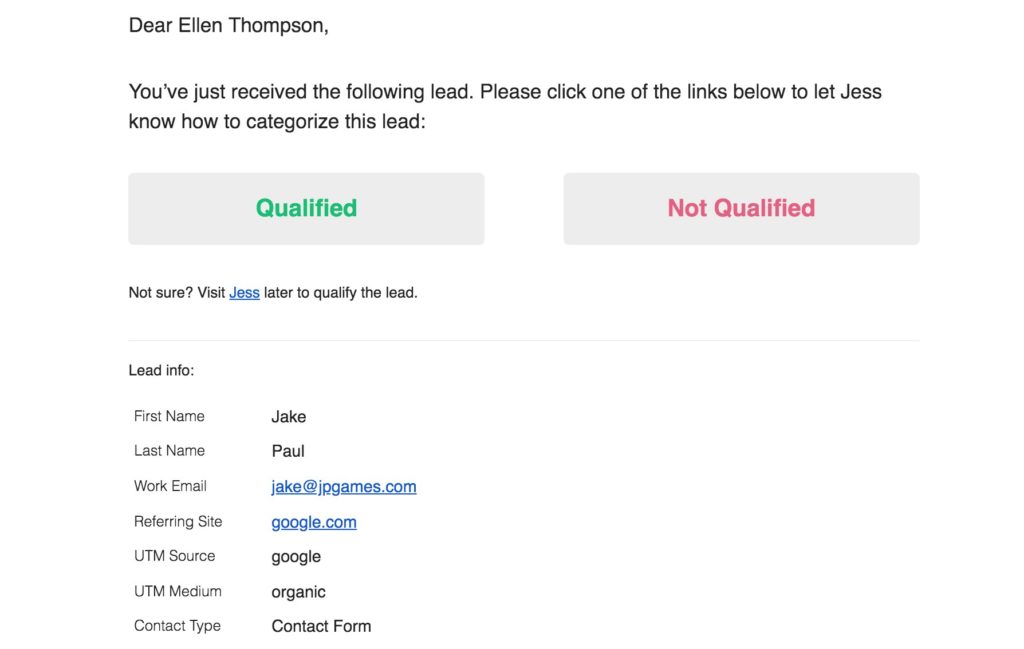 All Leads and Qualified Leads
These reports send you a report that contains a summary of everyone who contacted you and how they found you. All Leads reports all contacts. Qualified Leads only reports leads that have been marked as qualified by you. You must have form or phone call tracking installed to receive this notification.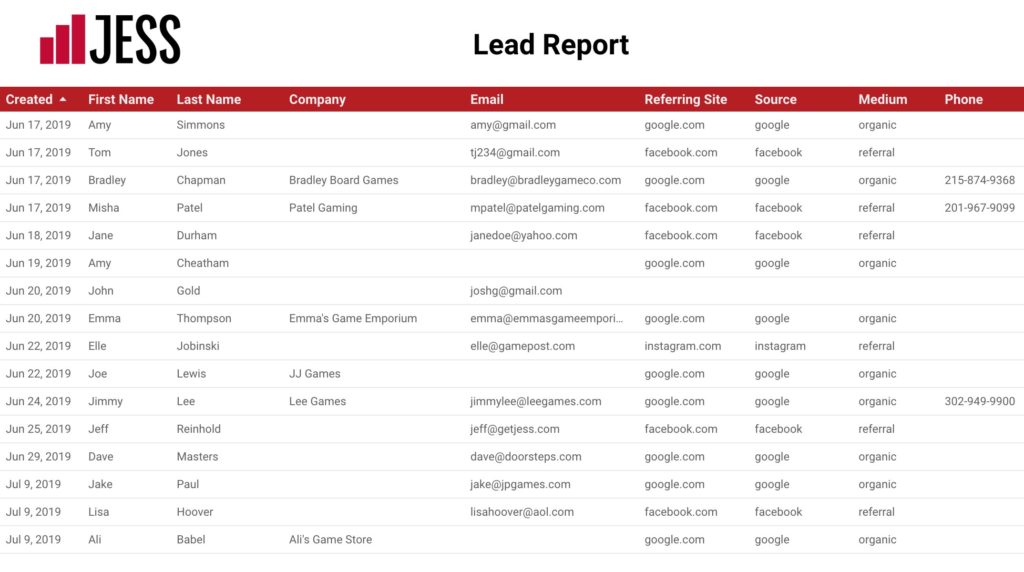 Insights
The Insights report provides a quick summary of marketing costs, conversions, and cost per conversion data, and can help you stay on top of spending as well as which sources are providing leads. All Jess users have access to this report. The data used in this report is pulled from your ad platforms and Google Analytics. You can set up ad platform integrations under Setup, Ad Sources and Google Analytics in the Customer menu access by the menu in the upper right corner. To see conversion data, you must have Goals set up in Google Analytics.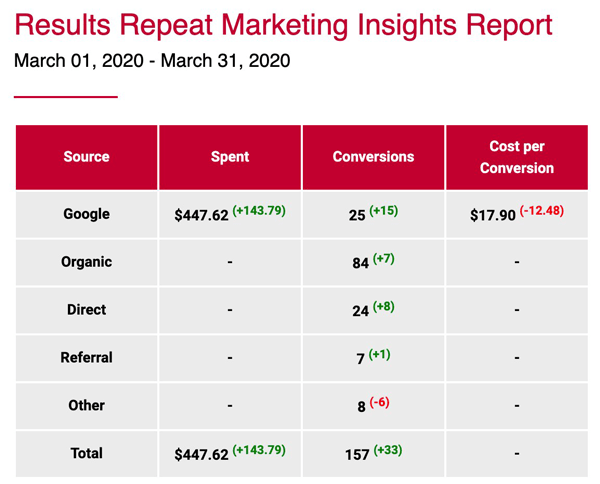 Summary Reports
Summary reports let you completely automate monthly reporting. This report is available to all Jess users.
To send this report, you need to enable and configure it first. Agency users should select Administration from the menu icon found at the top right at the screen and then click Narrative Report next to the customer they want to configure.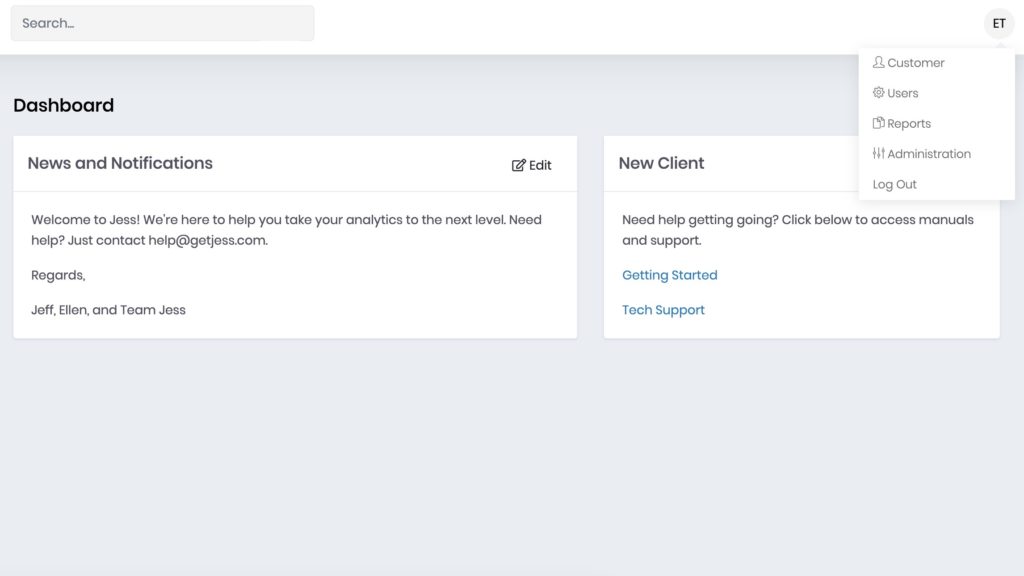 First, you need to select the source of your conversion data. Any user can select Google Analytics. If you are using Jess phone call or form tracking, you should choose Jess.
Jess Summary reports integrate a narrative review that explains marketing results alongside charts. Jess comes with default text, but you can edit the text for each client. You can also select which report segments to include in each client report. Click Update to save any changes to your report configuration before you send it.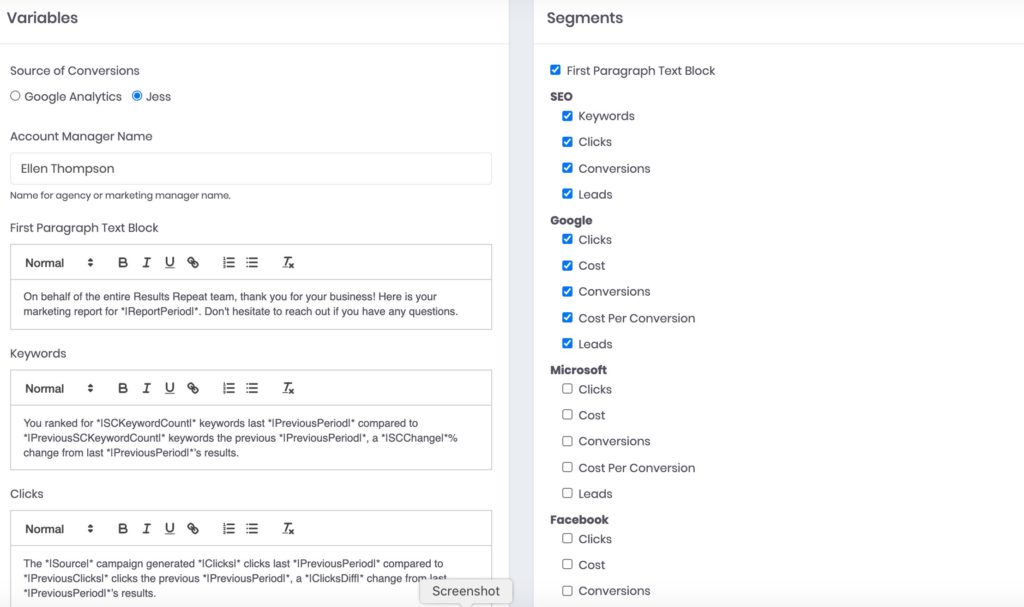 You can send the report automatically at the beginning of the month by selecting Summary in the Notifications screen or you can send it on demand. You can select any date range. The report shows period over period data by default. Select Year over year to report year over year changes. Click Preview to see what the report you send will look like or Email Subscribers to send the report on demand to anyone set up to receive it.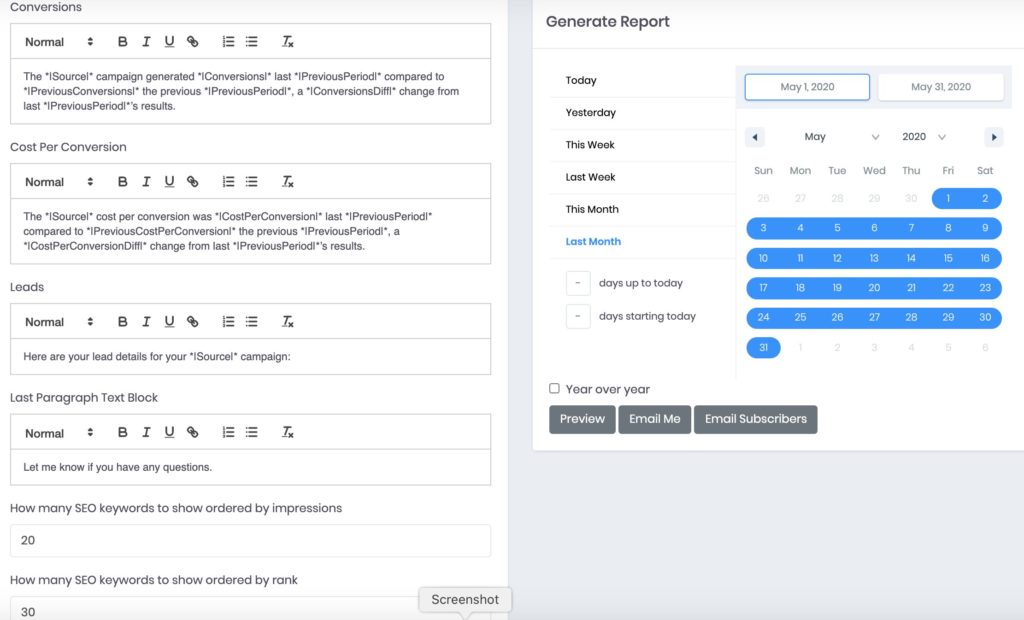 You can integrate data from Jess into your report segments. The variables available are found at the bottom of the page. Be sure to format the variable correctly by placing it between *| |* e.g. *|Source|*.

Below, is an example of your report. If you set up your logo in your Agency settings, your Summary report will be private labeled.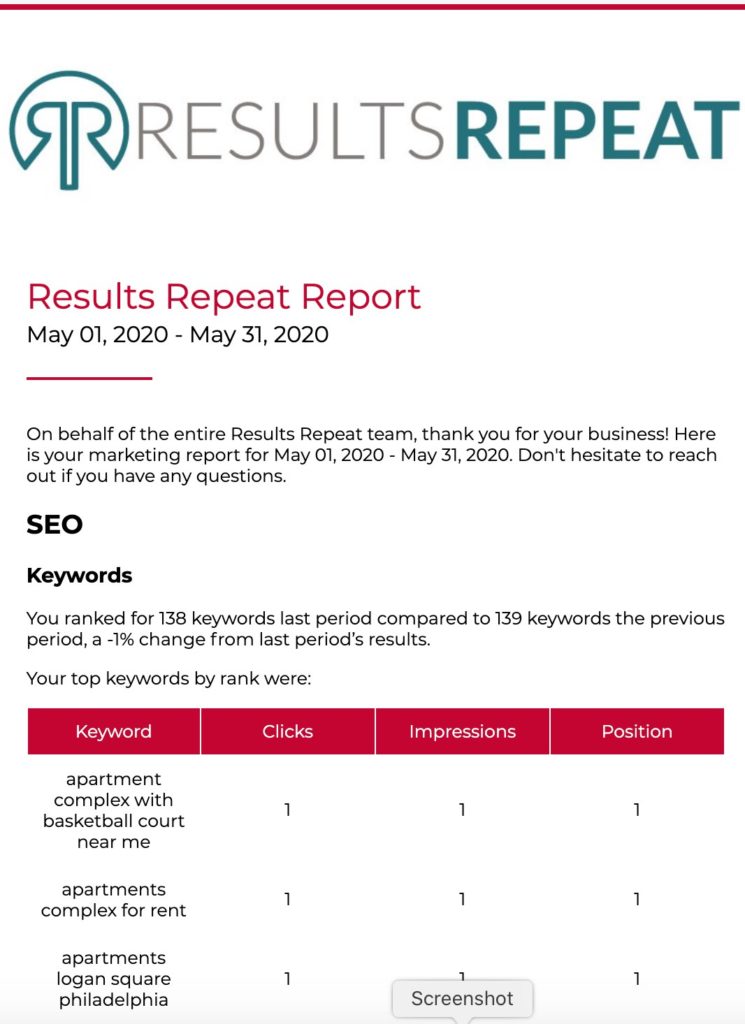 Note that the lead information can be included directly in this report. If you prefer, you can send this data separately using the All Leads or Qualified Leads reports.