Connecting Jess to Google, Facebook, Microsoft, and LinkedIn ad platforms lets you see basic information about these campaigns in the Jess marketing dashboard and provides data used by its form tracking, phone call tracking, and reporting add ons. Completion of this step is recommended for all Jess customers using one or more of these advertising platforms.
From the Jess dashboard, click Ad Sources. Click the New Ad Source button.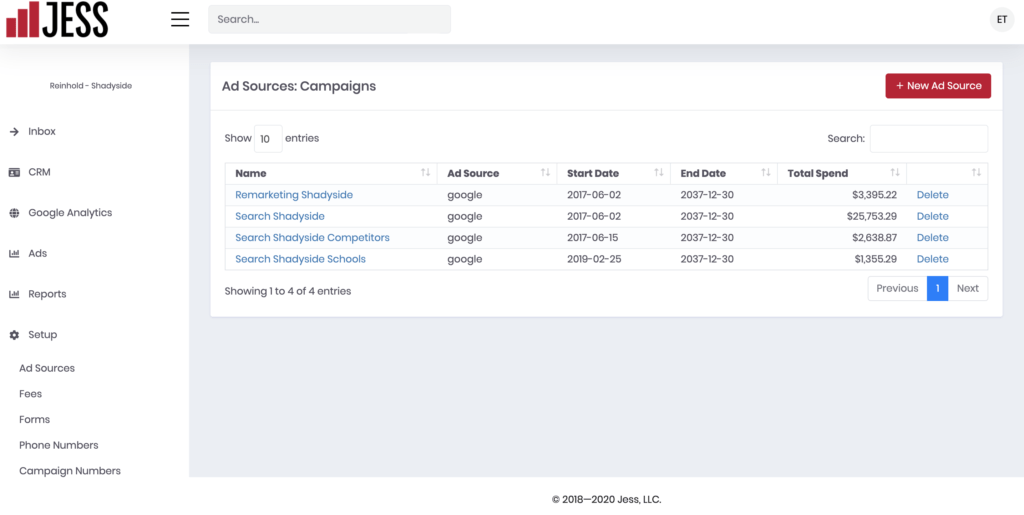 Click Link Account to link to one of your paid ad campaigns. You must be logged into these systems to connect to them and allow Jess access. Choose your account from the list that appears. Choose all of your campaigns and click Create Ad Source.
Jess also supports selecting one campaign which is helpful for organizations that use one account to advertise more than one brand. You'll need to enter the name of your campaign in the Name field (e.g. Facebook Ads, Google Ads, or Microsoft Ads). Select the Data Source Select the account and single campaign you would like to import. Click Create Ad Source. Repeat this process is you need to ad more than one campaign.